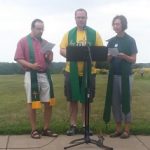 How Coming Together Creates Unity In Faith
Written by Marsha MacKinnon – Webster for the Presbytery of Lake Erie
The idea of bringing people together who are united in faith resulted in a day of togetherness on August 4th. The Rev. Drew Himes, Pastor of Church of the Cross in Fairview,  had a conversation with Rev. Emily Zeig Lindsey. They discussed sharing ministry opportunities. Rev. Himes said they also decided to encourage the Girard congregation to be a partner to complete the "West County Presbyterian" contingent. An invitation was issued and Rev. Nicola Vitiello of Girard joined the partnership. The following is a conversation with the Rev. Drew Himes.
What did the day involve?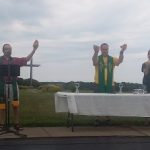 "The day began at 10:30 with a worship service led by all three pastors. We each preached a short homily and celebrated the Sacrament of Communion. There was a joint choir featuring singers from all three churches. After worship ended, there was pot luck luncheon which was made possible through the giftedness of all the members of all the church. It was DELICIOUS! Following this we had games and activities for children of all ages which encouraged members of different churches to work together."
What was the goal of the joint worship service?
"The goal was to bring people who probably live, work, shop, and play near one another on a regular basis into a more communal atmosphere where names and stories were exchanged. From all that I saw and heard about afterwards, I would say the goal was accomplished. Stories were exchanged and people found out how they knew one another. New ideas and new relationships were formed and ideas for future ministry together were discussed."
What was the message of the day?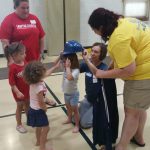 "The message, or theme, for the day was Unity. We decided this because our world so full of such divisiveness often that we rarely look at what draws us together. Our Scripture lessons and preaching focused in these areas to say that we are the One body of Christ, no matter what church we attend. All-in-all this was a wonderful experience which left people asking, 'Are we going to do this again next year?' with smiles on their faces. The Pastors all gave a resounding YES!"